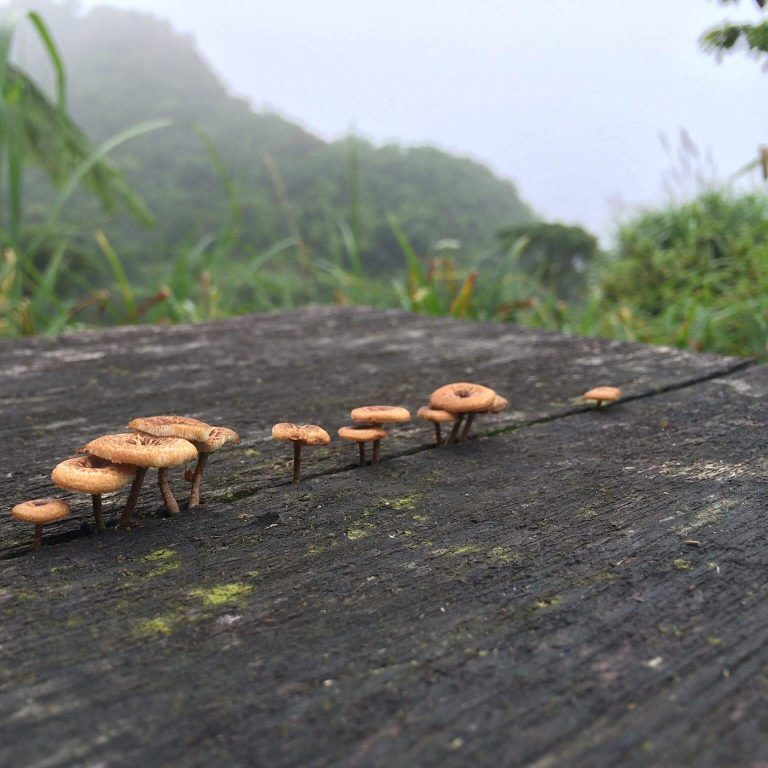 全台灣,鹿谷及坪林,是做茶一條龍。
從種茶、採茶、萎凋、炒茶、烘焙及包裝,是一茶農家可獨立完成;這與中南部茶農大部分只負責種茶,而由品牌工廠負責後續工序不同。
也因如此,坪林各家戶的茶傳了八代後,如同法國酒莊一般,差了一溪一巒,卻各有滋味。
坪林這山上的木桌,長出的野菇也排成一條龍。
In Taiwan, Lugu and Pinglin are home to the coordinated tea production process.
From planting tea, picking tea, withering and roasting to baking and packaging,
all those processes can be independently completed by a single group of farmers.
That is very different from most tea farmers in the southern central part of Taiwan.
They are usually only responsible for growing tea while brand factories are in charge of the subsequent steps.
As a result, in Pinglin, the essence of tea making has been passed down for eight generations.
Like French wine, tea can be unique in flavour, depending on a slight difference like a river or a hill.
On the wooden table in the mountainside of Pinglin, you will also find wild mushrooms…